TECHNICAL WORKSHOP FOR NESTOS RIVER CANDIDACY IN MAB/UNESCO PROGRAMME,19-20.10.2017, NESTOS,GREECE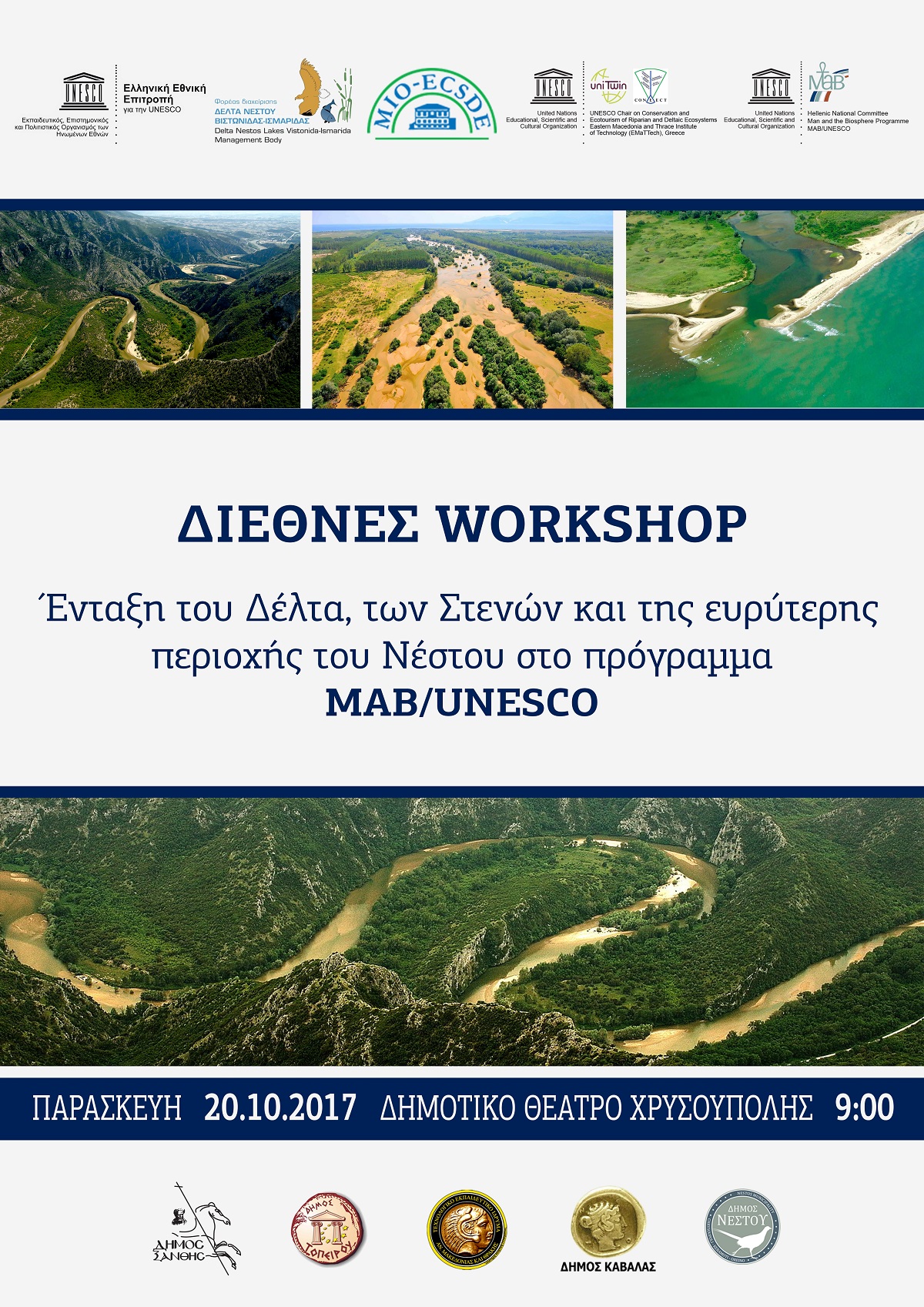 On the 19th and 20th of October, the UNESCO Chair Con-E-Ect in collaboration with Nestos River Management Body organize the Workshop under the title: "Optimizing ecotourism development and conservation in Nestos river. The role of local communities" in Chryssoupolis Kavala, Greece. The workshop is co-designed with the local authorities of the area and is aiming in giving to the local communities to understand, the benefits and perspectives of introducing Nestos entire drainage basin as a MAB possible area.
During this meeting, the Nestos River workgroup team will present Nestos MAB candidacy file and invites directors of MAB areas around the Globe to share their know how and expertise in mastering the above mentioned file in an extremely interesting workshop, taking place in field, hosted at the very Nestos Delta!
Few words on MAB/ UNESCO Programme
The MAB Programme develops the basis within the natural and social sciences for the rational and sustainable use and conservation of the resources of the biosphere and for the improvement of the overall relationship between people and their environment. It predicts the consequences of today's actions on tomorrow's world and thereby increases people's ability to efficiently manage natural resources for the well-being of both human populations and the environment.
By focusing on sites internationally recognized within the World Network of Biosphere Reserves, the MAB Programme strives to:
identify and assess the changes in the biosphere resulting from human and natural activities and the effects of these changes on humans and the environment, in particular in the context of climate change;

study and compare the dynamic interrelationships between natural/near-natural ecosystems and socio-economic processes, in particular in the context of accelerated loss of biological and cultural diversity with unexpected consequences that impact the ability of ecosystems to continue to provide services critical for human well-being;

ensure basic human welfare and a liveable environment in the context of rapid urbanization and energy consumption as drivers of environmental change;

promote the exchange and transfer of knowledge on environmental problems and solutions, and to foster environmental education for sustainable development
The Final Agenda of the Workshop is here, travel info is here and workshop material in Greek here.

For more information on MAB programme please follow the link below: http://www.unesco.org/new/en/natural-sciences/environment/ecological-sciences/man-and-biosphere-programme/
The Workshop will be co-organized under the suport of Nestos Municipality and the neighbouring Municipalities of Topiros, Xanthe and Kavala: