SCHOOLS IN COLLABORATION WITH UNESCO (ASPNET)
---
One of the primary aspirations of the Con-E-Ect Unesco Chair , is to achieve to subsume two more schools of the Region of Eastern Macedonia and Thrace, in this global and entrepreneurial network. The UNESCO Associated Schools Network (ASPnet) was founded in 1953 and aims to link educational institutions across the world around a common goal: to build the defenses of peace in the minds of children and young people. The 10,000 ASPnet member schools in over 180 countries, work in support of international understanding, peace, intercultural dialogue, sustainable development and quality education in practice. ASPnet operates at both international and national levels.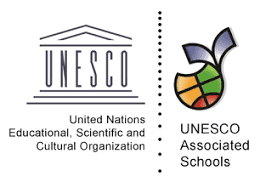 Ιn the framework of the ASPnet Programme, the Hellenic National Committee for UNESCO, in collaboration with the Head of International Educational Relations of Ministry and Religions Affairs, has developed a school network, which numerates more than 150 educational units of all grades, and strives for the diffusion of the institution, the closer connection with the Unesco Chairs all over the world, as well as for the increase in the number of schools which are under affiliation, by giving emphasis in the remoted areas such as the Region of Eastern Macedonia and Thrace, taking into consideration that there is an almost absolute lack of ASPnet schools in the above mentioned region.
Τhe goals of the Programme could be summarized in the fields of Creation, Teaching - Learning and Interaction among the participant schools. The programme aims to ameliorate the overall quality of education and especially the ethical, cultural and international aspects by developing effective teaching approaches, methods and materials. Thus, the network produces multiplicative results through the diffusion of the information so that schools out of the network can therefore realize similar activities. A plethora of examples have been noted where ASPnet has essentially contributed to educational reforms among the state-parties.